Soul

At BellaVita we believe in synergy of body, mind, and soul. That encompasses complete wellness. A part of our membership is a free Restorative Meditation session to feed the soul.

Yoga-Spa Retreat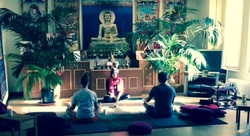 Experience a 1.15 hour getaway of rest and relaxation. Enjoy a candlelit private escape featuring yoga, with restorative meditation and reiki.

Includes:
- Aromatherapy
-Gentle touch
-Yoga Nidra (See below for description)
Share this experience with a friend or loved one for only. $250
Sessions are semi-private with an occupancy of 5 maximum.
---
Meditation

Ideal for the New Yorker or busy traveler. Restorative Meditation will help you reduce tension, and anxiety, leaving you feeling completely relaxed and rejuvenated.

Mediation is a practice in which an individual trains the mind or induces a mode of consciousness, either to realize some benefit or as an end in itself. Our meditation coaches will help of achieve a state of inner peace and stillness for optional relaxation and clarity. Through our Restorative Meditation session you will move through a series of visualizations with Yoga Nidra.
Yoga Nidra
Yoga Nidra or "yogic sleep" is a meditation technique practiced in Savasana. Yoga Nidra, lucid sleeping, is a state between being awake and asleep and among the deepest possible states of relaxation while still maintaining full consciousness.
Research has proven the benefits of this technique on lowering stress and promoting overall health:
- reduced blood pressure and stress
-
reduced autonomic symptoms of high anxiety such as headaches, chest pains, palpitations, sweating
-
prevents illness, slows premature aging, more restful sleep, strengthened immune system, & promotes healing.
Our Stretch & Restore class with Yoga Nidra is perfect for the busy New Yorker or traveler as one 30 minute session is equivalent to
4 hours of regular sleep.